Author and human rights activist, Miko Peled, aims to shine a light on under-reported Palestinian experiences through conversations with the brave human rights defenders living in Palestine, Israel, and the diaspora. Free Palestine! Follow @MikoPeled | www.mikopeled.com
Episodes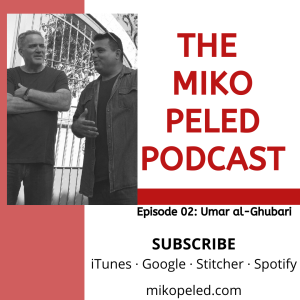 Monday Mar 09, 2020
Monday Mar 09, 2020
In this episode, Miko Peled spoke with Palestinian conflict facilitator, Umar al-Ghubari of Zochrot, an NGO that formed in 2002 to promote acknowledgement and accountability for the ongoing injustices of the Nakba and the reconceptualization of the Return as the imperative redress of the Nakba. Zochrot is also well known for developing a mobile app called iNakba, which allows users to locate and learn about Palestinian localities destroyed during, and as a result of, the Nakba since 1948. 
***We are putting out an important call for our listeners and friends to contribute to Zochrot's "48 Hours to Acknowledge the 48 Crimes" fundraising campaign on March 22 & 23. You can donate via www.zohchrot.org and www.facebook.com/Zochrot. The fundraising campaign will go live just prior to March 22 and will last 48 hours. Please chip in what you can do support the crucial work of Zochrot***
Solidarity!
www.mikopeled.com
Monday Feb 24, 2020
Monday Feb 24, 2020
In our debut episode, Miko Peled speaks with Bassem Tamimi in person from his village of Nabi Salih. Bassem Tamimi is a prominent Palestinian leader from the village of Nabi Saleh and one of the leaders of the popular resistance movement. Many outside of Palestine know him as the father of Ahed Tamimi, who was famously incarcerated by Israel after she slapped an IDF solider. Miko and Bassem sat down after a community meeting to discuss the current state of Palestinian resistance and what a just future must contain for Palestinians. 
About Miko Peled:

Miko Peled aims to shine a light on under-reported Palestinian experiences through conversations with the brave human rights defenders doing the work on the ground. Miko is an Israeli-American author, writer, speaker, and human rights activist living in the United States. He is considered by many to be one of the clearest voices calling for justice in Palestine, supporting the Palestinian call for Boycott, Divestment and Sanctions (BDS) and the creation of a single democracy with equal rights in all of historic Palestine. 
www.mikopeled.com